Aquabiking

Aquabiking in an individual cabin allows you to combine the benefits of hydromassages with the muscular efforts of pedalling in water, producing a genuine sensation of wellness at your own pace and without any aches and pains.
Sport & relaxation



For all

Combine sport and relaxation, irrespective of the level of your customers, with our dedicated programmes that meet all expectations.
Wellness, Fitness & Health


Our solutions

AquaFit Technologie offers two versions of its aquabike in an individual cabin: Aquafit 360° and AquaFit Easy.
Discover our bikes.
Interactive & upgradeable


A designer and a manufacturer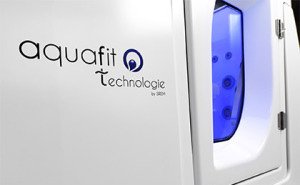 Quality made in France
AquaFit Technologie is one of the brands of the SIREM group, based in Saint Maurice de Beynost near Lyon. Our aquabikes in individual cabins are entirely designed and manufactured in France and our industrial know-how means that we can meet the highest standards of quality.
Discover Aquafit-Technologie