Aquafit Easy, our aquabike with an innovative design. Massage power that is unique in the market.

Its main advantages :
• A massage that is perfectly targeted thanks to the pedals that can be adjusted in height without moving the saddle, so you remain in front of the jets
• Adjustment of pedalling effort and intensity using a touch screen or the button on the handlebars
• High degree of autonomy with its door-free access, which means it can be completely filled before the session
• Left and right versions available
• Perfectly hygienic with water that is renewed at each session and no chemical products.
Machine designed and manufactured in France. Patented technology.
An industrial firm in Lyon since 1928. SIREM is ISO 9001 certified.
Complies with CEI/IEC 60335-1 (ed.5) and 60335-2-60(ed.3);am1;am2 standards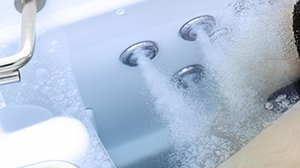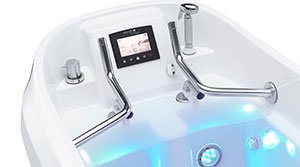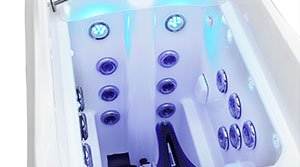 FEATURES
AquaFit Easy

CUSTOMER FEATURES

- 2 massage areas at the sides and in front/at the back
– Touch control for massage strength
– 26 jets: 10 at the sides, 6 in front, 10 at the back
- Touch control for pedal resistance
- Calories, speed, distance counters
– Statistical summary at the end of the session
- Access by steps and transfer saddle
– Left and right versions
- Pedal adjustment = saddle always correctly positioned in relation to the jets
– Saddle adjustable forwards/backwards
– Stainless steel handlebars with effort control
– Filled at the beginning of the session, automatic emptying
– 2 chromotherapy spotlights with touch control
- No programme
– Constantly evolving aquabike with installation possible
- 3" touch screen

OPERATOR FEATURES

- Water renewed between sessions
– No regulatory constraints
– User can directly access a small shower head for cleaning
– Automatic emptying with integrated lifting up to 3.50m
- Session length
– Water temperature
– Safe access to settings
- Technician dedicated to aquabike follow-up
- Not fixed
- Effective area< 5m²
– Ceiling height 2.50m
– Less than 300 litres of water per session
– Width 115cm (78cm excluding cover) / length 187cm
- Colour of the casing: Brushed aluminium (standard), other colours on request.